Nuclear

New Build and Decommissioning Planning InnovationHow do you go about Estimating, Planning and Optimising the Processing of Nuclear Waste?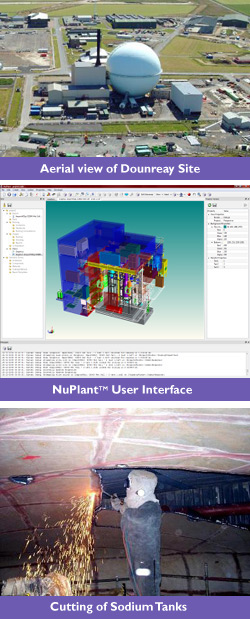 NuPlant
TM
is specifically designed to address the needs of Decommissioning Contractors, Site License Operators, Reactor Vendors and Utilities in determining, planning, optimising and estimating Nuclear Waste Liabilities.
NuPlantTM can significantly reduce waste processing, transportation and storage costs.
Nuplant
TM
offers the following benefits for decommissioning projects
Create and maintain a 3D Virtual Reality Model of a Nuclear Plant throughout its entire project lifecyle.
Directly compare alternative approaches to processing of waste streams: cutting, scabbling, demolition, etc.
Perform 'what if' analysis on the Nuclear Plant in real time.
Accurately estimate the total waste and dose uptake for processing operations.
Generate the most optimum packed structure for standard and custom Nuclear Waste containers.
Generate bespoke and regulatory reports using a powerful and customisable inbuilt Report Generator.
Interface with existing systems, databases and CAD sources.

VIEW VIDEO

Images courtesy of Dounreay Site Restoration Ltd / NDA / LLWR Ltd. Copyright © Structure Vision Ltd 2010. All Rights Reserved.