DigiPac

Structure Visionís DigiDEMTM software can be used to model complex dynamic particulate systems in the mining and process industries.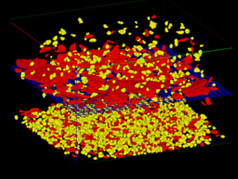 DigiDEM
TM
can be used in the mining, chemical and other process industries to simulate many dynamic processes where particle shape is critical.
DigiDEM
TM
has been validated for critical applications, such as the packing of catalyst pellets in columns.
In the mining industry, it can be used to simulate any moving particle processes, particularly those affected by particle shape, such as sieving, mineral separation, segregation, stirring and blending, conveyors, rotating drums and general bulk materials handling.
DigiDEM
TM
enables precise simulation of complex geometrical shapes, because unlike traditional DEM tools, it uses a 3D voxel representation for particles rather than spherical representation.
DigiDEM
TM
simulations can contain multiple externally driven moving parts, such as stirrers, shakers and vibrating sieves.
DigiDEM
TM
is interoperable with other components of the DigiPac
TM
suite, allowing further analysis such as flow and permeability, sintering simulation, thermal conductivity, dissolution and many more.
Input to DigiDEM
TM
can be from scanned samples using X-Ray Tomography, standard CAD files, or parametrically defined objects.