News

14.07.14DigiUtility updated with automated shape extraction
With the help of image processing expert, Dr Derek Magee, from School of Computing at Leeds, SVL has enhanced its DigiUtility software with the capability of automated extraction of certain shapes from CT scans. DigiPac/DigiDEM simulations require digitised shapes to form the feedstock to start with. Shape digitisation is usually the most laborious part of such simulations (since for a given feedstock simulation setup literally only takes minutes and the rest is machine time). The automation substantially speeds up the process of shape digitisation via X-ray CT scan, what used to take days of intense manual operation of the software now only takes a few mouse clicks and the rest is machine time.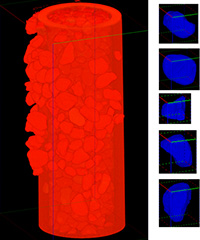 09.06.14Paper on virtual permeameter is out
A research paper describing how DigiPac, specifically DigiFlow and the packing modules, could be used to help design better filters is published today. Although the focus of the paper is on validation of the tools involved in such designs and on technical details that can influence accuracy of model predictions, the ethos of virtual permeameter is a simple one. DigiFlow is a numerical model for flow through porous media, and DigiPac for generating structure of porous media. Once validated, the two together can be an effective design aide for engineers to come up with better filter media more quickly and cost effectively since everything can be done and tested virtually on a computer. It is envisaged that new designs obtained this way will be particularly suited for manufacturing by 3D printing.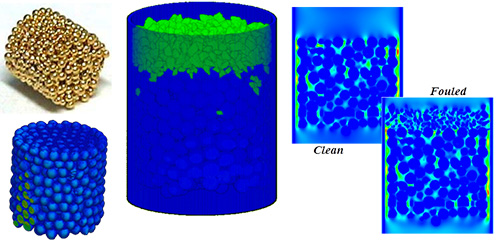 To see the paper -
R. Caulkin, M. Islam, X. Jia, M. Fairweather, (2014) - Studies for the development of a virtual permeameter. Comp. & Chem. Eng. 68, 190-202
- in the downloads section please
click here
.