News

11.11.15DigiMelt for 3D printing
A Monte Carlo type computer model is implemented to simulate sintering in a single layer of powder in selective laser sintering or electron beam sintering. The model is meant to link quality of the sintered part to layer thickness and particle size and shape characteristics of the powders. DigiDEM and DigiMelt together can thus be used to look at four important aspects in 3D printing: packing density and uniformity in feeders and builders, roller action and effects, tray density optimisation, and quality of sintering.
29.06.15Multi-scale modelling of CO2 absorption in packed columns
A research project, in part carried out by an MSc student Ziad Naguib Ahmed Farag, is currently in full swing. The aim is to bring together an existing high-level numerical model from Leeds University [1] and a low-level packed column reaction model from SVL (DigiSorp), in a multi-scale approach to the modelling of CO2 absorption in packed columns. DigiSorp is adapted from DigiDiss, to simulate reaction kinetics at solid/fluid interface and mass transfer and concentration distribution of reactants in the carrier fluid. It is hoped that the low-level DigiSorp model can provide values for some of the two-dozen parameters used by the high-level one, which are currently calculated from empirical correlations. If successful, the coupling should help to provide more insight into reaction kinetics in packed columns, and making some of the empirical relations redundant.
[1] F.M. Khan, V. Krishnamoorthi, T. Mahmud (2011) Modelling reactive absorption of CO2 in packed columns for post-combustion carbon capture applications, Chemical Engineering Research and Design, 89: 1600-1608.
18.05.15New DigiDEM under alpha testing
A new version of DigiDEM that couples DigiFlow and DigiDEM to provide a more rigorous method for drag force calculation has been implemented and currently under alpha testing, by a PhD candidate Rodrigo Guadarrama Lara supervised by Dr Xiaodong Jia and Prof Mike Fairweather at Leeds. If successful, the new version is expected to make more realistic predictions than the plug flow models currently used in DigiDEM. Following single objects tests, validation case studies will include fluidised beds and sedimentation.
27.03.15DigiFlow updated
With the help of a PhD student, Nicolas Delbosc, from Leeds University, DigiFlow is updated for its capability to deal with turbulence and unsteady flows, covering a much wider Reynolds number range than before. DigiFlow has thus far been mainly used to estimate permeability of DigiPac generated or CT scanned porous structures, operating in the Stokes flow regime (i.e., low Reynolds numbers). For high Reynolds number flows, externally calculated flow fields (e.g., by a CFD package) had to be imported in modules that require flow field in the simulations (e.g., convection in DigiDiss and drag force calculation in DigiDEM). The update should reduce the reliance of DigiPac modules on external flow simulators.
04.02.15Impact of compaction of soil aggregates
A research paper is published jointly by Sheffield and Leeds, on analysing the impact of compaction of soil aggregates using X-ray microtomography and water flow simulations. Flow simulations were done using SVL's DigiFlow on CT scanned microstructures.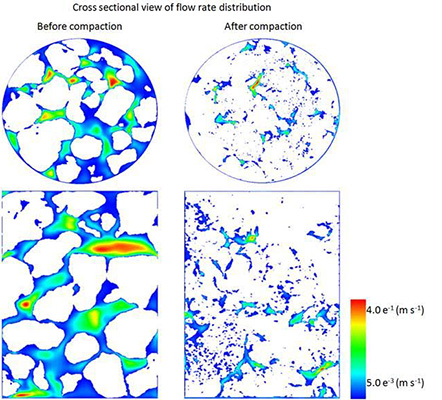 To see the paper -
M. Menon, X. Jia, G.J. Lair, P.H. Faraj, A. Blaud (2015) Analysing the impact of compaction of soil aggregates using X-ray microtomography and water flow simulations. Soil & Tillage Research, 150: 147-157.
- in the downloads section please
click here
.
16.01.15Research collaboration between SVL and North China Electric Power University
Collaboration between Leeds and NCEPU, through a visiting PhD student (Guan Yanjun), will help SVL to validate a new version of DigiDEM where Lattice Boltzmann Method (LBM) is coupled with Discrete Element Method (DigiDEM) to provide a more rigorous drag force model. The aim is to eventually build a multi-scale model for fluidised beds. NCEPU has a CFD model that describes the whole packed bed column at a high-level. DigiDEM+LBM on the other hand is a sub-particle level model. It is hoped that DigiDEM+LBM can provide useful data at CFD cell level for the high-level model. Such data are currently provided through empirical or less rigorous correlations. The multi-scale modelling approach is aimed to provide more accurate predictions.